Green Logistics is an umbrella term for environmental compatibility and efficient use of resources.
Embracing the motto "Rail protects the environment", we contribute to relieving the roads with our rail transports every day.
In addition, we work on a steady reduction of noise emissions as well as an improvement of the energy and environmental balance.
---
Rail protects the environment
1 train replaces 29 trucks
The energy consumption for the rail is about 50 per cent less than the energy consumption of the truck.
---
Sustainability starts with the concept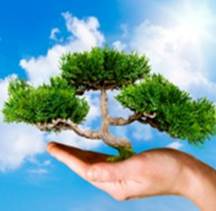 Increased transport efficiency and route optimisation
Bundling of transport flows
Optimised transport routes and ready return-load concepts – for the whole of Europe
---
Transport shift to our modern equipment
Since 2008, BLG AutoRail has been employing own trains using Europe's most modern wagon fleet. Our wagons are fitted with "whisper brakes", so that we are well below the legally permissible threshold of 82 decibels. The special wheel chock systems of our wagons constitute a contribution to industrial safety. In comparison to the usual wheel chocks, they are easy on the back, may be moved laterally and may be arrested and released by a push of the foot using a tilting mechanism.
---
The result:

further reduction in noise emissions
better energy and environmental balance
relief of the road